Adaptive reuse architecture refers to repurposing an existing structure for a new use. Buildings become abandoned when the original purpose of the structure becomes obsolete. Adaptive reuse preserves history while creating new opportunities. It is also referred to as building reuse. Examples of adaptive reuse architecture include converting an old train station into a restaurant, or a lighthouse into a home. This practice is often handled by commercial real estate developers who have the financial means and experience in construction projects to execute an adaptive reuse project
Adaptive reuse architecture has similarities to historical restoration or preservation projects. Typically historic restoration projects restore a building or feature to its original condition. Adaptive reuse embraces new features and uses for the space. Adaptive reuse faces specific challenges as physical adaptations may be required that need special flexibility and problem-solving. Projects typically involve dealing with permits and regulatory requirements and may necessitate remediating environmental hazards.
Adaptive reuse is a growing trend in architecture that can be applied to any form of infrastructure. Building product manufacturers should pay attention to adaptive reuse architecture, and be ready to offer and position products that work in retrofitting existing structures.
What are the Benefits of Adaptive Reuse Architecture?
Adaptive reuse architecture provides the stakeholders and community with a range of benefits when compared to traditional new construction. It preserves history, provides value to both stakeholders and citizens, and reduces the environmental impact of construction. It allows our buildings to change along with our lifestyles and priorities.
At its core, adaptive reuse is a form of historic preservation. It allows for restoring sites that would otherwise be demolished or left to decay. The completed projects are often attractive and functional and can result in unique buildings. Adaptive reuse architecture tends to be popular within communities as people appreciate historical preservation and unique landmarks. Adaptive reuse architecture signals a perception of value in a neighborhood that contrasts with the perception of value when buildings are left to decay.
Adaptive reuse architecture has financial benefits over new building construction. There is a saving due to the lack of demolition expenses. There are often tax incentives available for the adaptive reuse of buildings. The construction required for adaptive reuse projects takes less time than building a new structure.
As discussed by Masterclass, builders engaged in adaptive reuse construction demonstrate an alternative to urban sprawl. Builders typically choose land further outside of a city center due to cost. This fuels urban sprawl, contributes to air pollution, causes traffic problems, increases the cost of infrastructure, and contributes to social isolation. Adaptive reuse avoids having to find new space for construction, and by contrast, allows builders to access prime urban real estate areas.
New construction has an intense environmental impact. Adaptive reuse architecture is more sustainable than new construction. It requires less energy and resources and thus has a smaller carbon footprint. Keeping and using existing buildings prevents the release of large amounts of greenhouse gas emissions from demolition and new construction. Adaptive reuse also provides the opportunity to overhaul the energy use of a building.
Adaptive Reuse Architecture Examples
Green Ribbon reviewed six adaptive reuse projects in Toronto. One of these was the Evergreen Brickworks in Toronto's ravine system. The buildings originally housed different brick-making techniques but were eventually abandoned, leaving behind empty factories and contaminated soil. The Brickworks were renovated, and elevated structures were added to handle the flooding of the area. A network of bridges was created between the buildings. The only new structure is now Evergreen's head office. The factory is now a community center that holds workshops, festivals, and cultural events.
Prosoco discussed a building in Bridgeport Connecticut originally that was home to the American Graphophone Company. Graphophones are of course no longer in use and so the building was abandoned and run down. It has been retrofitted into a charter school and workforce housing.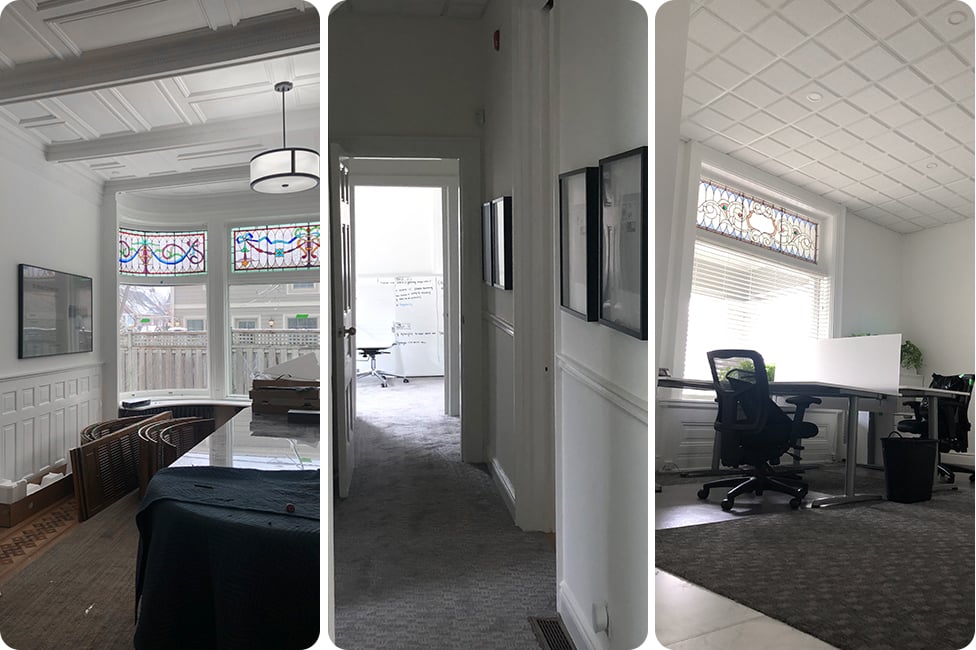 Building Product Manufacturers and Adaptive Reuse Architecture
Retrofits are overtaking new construction in some sectors. Manufacturers should pay attention to this growing demand. There is a marked urgency for all of us to reduce our greenhouse gas emissions. The UN recently released its 13th annual report on greenhouse emissions and revealed the international community is falling short of the emission reduction goals in the 2015 Paris Agreement. Among the steps that can be taken in construction includes the retrofitting of existing structures to help us meet our 2030 emission reduction targets. Our lifestyles changed due to the COVID-19 pandemic, and some of those changes have been permanent with some companies moving to be completely remote. Now-empty office buildings can be turned into apartments. Adaptive reuse can be a creative approach to solving construction challenges and it is going to be an increasingly important part of redeveloping cities.
Manufacturers of products that are well suited for adaptive reuse projects should review their messaging to make sure their marketing efforts appeal to architects and designers engaged in retrofit projects. When building products are used in these projects, manufacturers should try to obtain photographs and videos of the projects to showcase their capabilities in this area.
CADdetails is ideally positioned for manufacturers needing to reach designers with messaging about their products. Schedule a demonstration today to learn more about reaching our audience of over 640,000 registered design professionals in North America!
cover image Ⓒ CADdetails