Along with the arrival of crisp fall air and pumpkin spice everything, fall sees the arrival of trade show season for the AEC community. Exhibiting at trade shows is an essential traditional sales tool for some businesses, and landscape and building product manufacturers are no exception. In-person trade shows are back after being on hiatus due to the pandemic. Decision-making around trade shows has always been complex, and the pandemic has heightened the considerations companies need to make around exhibiting and attending shows.
Success is never guaranteed, and trade shows have always yielded mixed results. Pandemic aside, businesses have always had to question if trade shows provided a reasonable return on investment. The costs associated with exhibiting are significant, and there is a risk associated with shows as a business strategy. In addition to costs, and the likelihood of success, exhibitors now also need to consider the health and safety of their staff, their willingness to travel, and how to proceed if plans become derailed. Safety remains a major factor. International travel is not as seamless as it had been pre-pandemic. However, after over two years of isolation, manufacturers are eager to meet with architects and specifiers face to face.
1. Which Trade Show is Right for Your Business?
There are many quality shows taking place, so how do you know which one is the right one for your business? Consider your target market, and if your target market is attending the show. For example, if you manufacture a product that needs to be specified by engineers, look for a show that would attract engineers. Landscape products that need to be specified by landscape architects should be exhibited at a show catering specifically to that segment. The American Society of Landscape Architects (ASLA) hosts an annual conference for landscape architects where they can expand their knowledge and obtain continuing education units. Exhibitors at the adjoining exhibition should ensure this is the right market for them. Landscape products that are not used or specified by landscape architects may find a better place at another show. For example, manufacturers of lawn equipment are unlikely to find their audience at a show for landscape architects.
Location is also an important factor. Architects and designers are making different evaluations than pre-pandemic, and attendance is more localized now. An effort to minimize our carbon footprints has contributed to this localization. Consider where your sales typically come from when choosing which shows are worth your effort. If you are unsure about a show, consider going as an attendee before exhibiting.
Walking a trade show floor and getting a feel for the attendees and the atmosphere can be valuable. Speaking with exhibitors about their experience.
2. Which Booth Should You Book?
When booking your trade show booth, you are likely to encounter a selection of booths on a floor plan. The earlier you book, the more selection you will have. Try to secure a booth that is in a location with good foot traffic. Even if you book well ahead of time, you may find you cannot get the booth space you wanted because exhibitors from previous years had the first right of refusal for booth space. Typically shows give the first choice of booths to their loyal customers that have exhibited in past years, so keep in mind that you will not have the prime location your first year exhibiting. Also if you choose not to exhibit for one year and then return, you will lose early access to booking booth space.
3. Setting Up Your Booth
Your booth should be set up so as to best show off your products. Be sure to include the associated costs for shipping your products in your calculations. The costs of handling products and furnishings from the loading dock to the booth can be steep and should be considered in your plans. At this time, it is considerate to realize that not everyone at the show may be comfortable in crowds. Exhibitors can equip their booth in a manner as to enhance safety and ease the minds of anxious attendees. Offering branded items such as face masks or hand sanitizers at a booth can not only draw attendees in but also signal a dedication to safety and caution.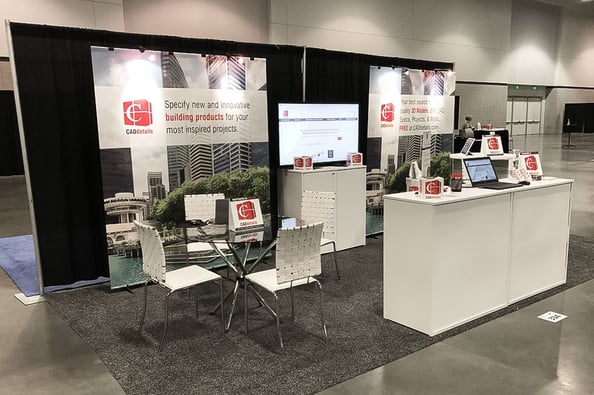 4. Trade Show Related Events
There are often education opportunities and exciting social events planned around trade shows. Decide which events benefit your team, and try to strike a balance. Travel can be a draining experience, so keep that in mind to be sure your team can make it to the show energized and excited after whatever event happened the night before. It is also a good time to be flexible with planned events. The potential for small outbreaks, the need for attendees or booth staff to isolate, and illness should all be considered. Be prepared for the potential for rescheduling or postponing wherever possible.
5. Travel to the Show
Travel costs and risks vary. This is another area where a balanced approach can pay off. There is a temptation to book the lowest priced flights, but take more than cost into account. Flights may have delays and cancellations, so consider a buffer of time to ensure your team arrives with enough time to set up your booth and be ready for a strong show. Tight flight schedules can risk missed connections. If your team only has one hour to catch a connecting flight, any delay in their first flight could cause problems that may result in arriving later than desired.
6. Staffing Your Trade Show Booth
Trade shows are hard work for exhibitors, but they can also be exciting and inspirational. The staff you send will be expected to work long days, travel, and be friendly and engaging with the show attendees. You expect a lot out of the staff you send to a show, and who you choose to send can make the difference between a successful show and an embarrassing disaster.
There is a wide range of feelings of comfort around travel and public events. Be considerate of staff that are not ready to travel or go to an indoor public event. Have these discussions early so that you can plan in advance.
7. Additional Things You Can Accomplish at a Trade Show
In addition to the interactions you have with architects and specifiers at your booth, there are additional benefits for your company when you exhibit at the show. Your team is going to be spending a lot of time together at any trade show and the experience can be one of team building. There are also many things to learn at a trade show, and your team may find a wide range of resources to help them better serve the AEC community. You are bound to see some of your competitors at a trade show, and this can be an opportunity to gain insight. You also may meet manufacturers or service providers that are potential partners. At CADdetails, we often meet with landscape and building product manufacturers at shows to discuss aspects of our partnerships and services, and at these shows, we also promote our partnered attendees.
CADdetails will be exhibiting at ASLA in San Francisco from November 11th-14th in 2022. Come visit us during the show at Booth #630!
---
Learn how to increase awareness about your building products by talking to one of our experts! CADdetails has been exhibiting and attending trade shows for over 20 years and we'd love to share more tips on how to make a trade show successful for you and your company.